Alien Fruits Mobile Slot Game
Alien Fruits is a fun 3 reel fruit machine mobile slot game at mFortune Casino. At first glance it appears to be a classic fruit machine game with fruit symbols such as cherries, lemons, oranges, watermelon, strawberries and the number 7. On closer inspection, you will find that the game is full of little surprises to give you extra chances to win. The hidden mini games offer the chance to win extra cash and there are a number of these mini games available.
Play Alien Fruits at our Recommended Mobile Casino
How to Play the Mobile Slot Game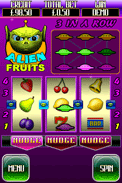 To begin the mobile slot game, if you are playing for real money, you will need to place a bet and then start the reels spinning. Sit back and wait to see what your reels land on and you will be paid out for any winning combinations. As is common in fruit machine games, there is a hold feature in Alien Fruits which allows you to hold specific reels and spin others in the hope of increasing your chances of winning.
If you line up three UFOs in a row (horizontally, vertically or diagonally) on the UFO panel you will be taken to one of the mini games on the trail. On each spin, the UFO panel will be reset, although if the held feature is awarded, any lit up UFOs will be kept to the next spin giving you extra chances to enter the mini game. The mini games include Alien Attack, Tricky Alien, Lucky Star and Red or Green Alien. While playing the mini game you may be lucky enough to land on extra features such as extra spins or pinch your spins or you may be unfortunately and lose the trail. You must advance along the trails with four spins, which may be increased or decreased depending on the squares you land on.